Posted Tuesday, September 13/05 in Driving efficiently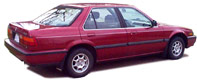 After claiming yesterday that I could regularly beat the EPA ratings in my old Honda Accord EX, I looked it up just to confirm.
According (pardon the pun) to fueleconomy.gov, my car, a 1989 4-door, 5-speed, with a carbureted engine, is rated at 27/34 mpg (US) city/highway (8.7/6.9 L/100km, 32.4/40.8 mpg IMP).*
In summertime highway driving, I regularly got 40 mpg US (5.9 L/100km, or 48 mpg IMP).
That's beating the EPA estimate by 18%.