Posted Tuesday, October 3/06 in General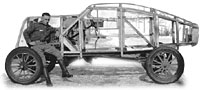 Harry Stevinson was decades ahead of his time. In 1933 at the tender age of 17, he put his self-taught mechanical & design talents to work fabricating a streamlined one-off car that was both faster and more efficient than the Model T Ford it was based on.
I learned about Harry and his car from his son, Tom, who lives near the same town I live in. Tom and I sail together in the local sailboat races, and the topic of his dad's Model T came up one day in the marina parking lot when he commented on some modification I had made to the Blackfly.
What emerged was a fascinating story along similar lines as the aero-modified Metro XFi - only this story took place 60 years earlier...