Posted Wednesday, September 7/05 in Suzukiclone info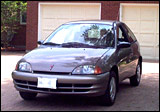 Welcome to the bottom of the automotive food chain!
When this car was new, it was the cheapest car for sale in the Canadian market (the U.S. had the bottom-feeding Yugo for a few years).
And my particular car is the cheapest of the cheap, with absolutely no optional equipment. No power steering. No tachometer. No rear wiper. No privacy cover under the hatchback (I made one). No remote hatch or fuel door release. There isn't even a trip odometer.
How cheap is it? It's so cheap, only the driver's door gets a switch to turn the interior light on when the door is opened. The passenger side has a hole where the switch should go, but there's just a blank in its place.
But is cheap bad? Depends what you mean by bad.
If by bad you mean slow and lightly built, then things admittedly don't look very good.

Because it is slow. The growly 993 cc, 6 valve, 3 cylinder engine generates a mere 55 horsepower. That's weak enough to cause you to take notice of hills on the freeway that wouldn't get a passing thought in other cars, and to make you carefully consider your options when merging with fast-flowing traffic from a dead stop. A power-sapping automatic transmission would definitely not be recommended with this engine.
And it is lightly built. At only 820 kg / 1800 lbs, you need to pay attention to your lane position in a crosswind, and you will feel air turbulence from the big trucks.
But it's precisely because it's slow and lightly built that it remains the reigning non-hybrid, non-diesel fuel economy champion, according to the NRCan figures: 66 mpg (4.2 L/100 km) highway / 52 mpg (5.5 L/100 km) city (Imperial gallons). (How easily attainable those figures are is a subject for a future post.)

My main concern with the "lightness" of construction is whether it applies also to the mechanical bits, with consequences for reliability and longevity. While shopping around, I test drove three used Firefly/Metro/Swifts, and two of them had weak synchros on second gear - shift quickly and things got crunchy. Difficult to say if this is the result of previous ham-fisted owners, or because the mechanicals are under-engineered. Overall, "refined" or "robust" are words I would not use to describe the mechanical feel of this car.
As for longevity, only time will tell. I've had the car for 5 months now and aside from expected repairs needed for certification/e-test when I got it (at 141,000 kms), nothing has broken. On the plus side, should you have to fix a Metro, replacement parts are generally inexpensive.
Main peeve? Ineffectual rain gutters on the windshield A-pillars that let water stream freely into the side windows, even if only slightly open.
Around town, the diminutive size, independent suspension and light weight give it nimble handling. It's a cinch to park, and you won't really notice the unassisted steering.

Also on the plus side, it's got cupholders, map pockets, intermittent wipers, and a mirror on the passenger door (though you have to wind down the window to adjust it manually). The seats are surprisingly supportive too (for my 5'10"), even as thinly padded and upholstered as they are. While this may sound like damning with faint praise, it all counts for something at this end of the automotive spectrum. You'll also appreciate the hatchback and folding rear seat for accommodating surprisingly bulky objects. (The clips that hold the rear shoulder belts out of the way of the folding seat back are a nice touch too.)
But should you get one?
If your aim is efficiency, look no further, but understand how it's achieved here with compromised performance and robustness. If you're looking for cheap, you've come to the right place (and you're probably willing to put up with the short-falls). But if you're a nervous driver looking for reassurance from a solid feel, confidence-inspiring acceleration, and surefooted highway manners, keep right on looking.
---
1998 Pontiac Firefly #1
2 door hatchback
Purchase price, "as-is": $1500 (141,000 kms)
Repairs for certification/e-test: oxygen sensor ($163.29); catalytic converter ($179.40); inspection charges ($104.64)
On-the-road total: $1947.33
---
More reviews:
- Don't take my word for it: the Toronto Star recently picked the Metro/Firefly/Swift as one of 5 efficient used cars. Read more.
- More info & reviews in on the MetroMPG links page.
---
Update [Nov 23/05] -
6 months later, I bought the company. No, not quite, but I liked it enough that I have bought another one.