Posted Monday, March 27/06 in General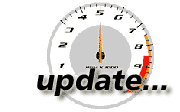 Revolutionary feedback ...
Since posting my RPM vs. MPG experiment, I've heard back from a couple of people. Some good points were raised, so I've added their comments to the end of that page.
Jump to Showdown: testing RPM vs. MPG at a fixed speed and scroll to the bottom of the page for the new stuff.
---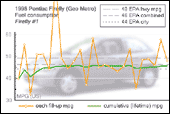 MPG charts added - Posted Sunday, February 26/06
The MPG geek-style freak-out continues.
On Friday I dropped by Mark's Metro to see what was new in his ongoing log of Metro ownership. What I found was a wonderful graph detailing his fuel consumption since he got the car last fall. Nice work, Mark!
Being a weak-kneed nerd for "the data" myself, I immediately had one of those "gotta have it!" moments.
So, today I added a new page with similar technicolour MPG roller-coasters representing my two Fireflies, past and present. And right off the bat, you can tell it's better than looking at just numbers.
Oh, the insights I'll glean...
(Note: I've also added a link to the new graph page from the orange "fuel economy stats" box at the top left of each page.)