Posted Thursday, October 27/05 in Suzukiclone info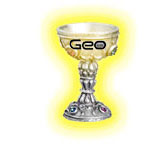 To put it simply, the XFi was the automotive embodiment of the less is more philosophy - and thus it remains the king before which all Metro fuel economy nerds bow down.
Yes - as hard as it may be to believe, there was once an even more stripped-down, even more efficient version of the already legendarily stingy Metro 3-cylinder hatchback.
How much more efficient?
EPA 53 city / 58 hwy
In 1994, the XFi was rated at 53/58 US mpg city/hwy - that's an astounding 15%/18% better than a regular '94 3-cylinder, 5-speed Metro.
(If you speak imperial or metric, it's 63.6/69.7 mpg, or 4.4/4.1 L/100 km.)
When I first discovered the XFi on the Internet, I'm not sure, but I think I briefly heard a choir singing in the background, and the backlight on my LCD screen may have glowed brighter. In that moment, the XFi became my holy grail, and I undertook a quest to learn more about it.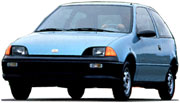 Why so excited? Because I can already beat the US EPA highway rating in my garden variety 3-cylinder 5-speed Firefly by 4% on average, and by up to 17% under ideal conditions. Imagine if I could get my hands on an uber efficient XFi! If I could extract similar gains, that would mean highway numbers between 60-68 US mpg (72-82 imperial / 3.9-3.5 L/100 km)!
One teamswift.net contributor claims he can reliably get 75 mpg US at 55 mph in his modified-for-economy XFi (90 mpg imp / 3.1 L/100 km).
Be still, my beating heart. Why had I never heard about this car before?
Only in America, eh? Pity!

Well, I'm probably not alone in my ignorance. Of all the Metros sold during the period it was offered (1989-1994), less than 10% wore the XFi badge - er, sticker. So they would have been easy to miss. But on top of that, if you're Canadian, you're even less likely to have seen one because I don't believe they were ever sold here at all (which is truly ironic, considering they were built in Ontario for the North American market).
No, for five short years, the XFi drove past US gas stations only, rolling proof that less is more:
- lighter curb weight (1621 vs 1650 lbs for the LSi)
- no passenger side mirror
- no a/c
- different engine computer
- different cam shaft & sprocket
- different piston design (2 vs 3 rings)
- taller final drive
- 49 hp / 58 lbs-ft vs 55 / 58
Alas, even if it had been available in Canada, the odds of finding a used one in roadworthy condition today would be slim. The average odometer would read 220,000 - 320,000 kms (at 20k/yr), and by now Ontario's salty winter roads would have turned the thin metal of this featherweight miser to swiss cheese. So it would appear this holy grail will remain out of reach (to me, anyway - you southern Americans may still have a chance).
What's in a name?
On my XFi quest, the only thing I wasn't able to learn was the meaning of the name. A discussion ensued in the teamswift fuel economy forum, and the guesses are listed below. Several suggestions seem impertinent, considering the vaulted status this car deserves in the echelon of fuel economy champions.
Like Dangerfield, it seems sometimes a Geo just can't get no respect.
"XFi" interpretations ...
Xtra Frugal injection
Xenophobe Financial independence
X-Files immobilizer
Xtraordinarily Frugal intentions
Xtra Fuel inside
Xample For insight (Honda)
Xtra Friggin inferior
Xtinguishes Female interest
More XFi ...