Posted Monday, October 17/05 in Driving efficiently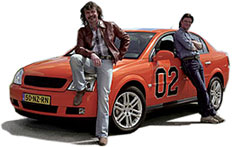 The Dutch call it "the new driving" - and it's yet more evidence that Europeans take their driving more seriously than us North Americans.
That's right - new driving. Like new math. It's social marketing, meant to encourage a shift in the way folks behave behind the wheel. (After all, who wants to drive the old way?)
Yet, bizarrely, the Dukes of Hazzard are the spokespeople.
OK, not quite. More accurately, the Dukes of Holland are the spokespeople. It's a weird Bo and Luke parody in the form of a series of TV ads that promote the campaign. Their bright orange car sports not the Confederate flag on its roof, but the Dutch flag. The number on the door is "02", not "01" - a symbol of their progressive ways.
Tailpipe emissions seem to be the main target of the Dutch government ("new driving" is funded through an environmental budget), although they point out that the same driving techniques apply whether the aim is to reduce vehicle wear and tear, save fuel, minimize pollution, or increase safety and comfort.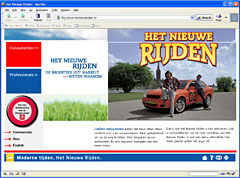 There's not too much new information in the driving tips that you can't find elsewhere (and in English ... I actually went through the unintentionally hilarious babelfish dutch/english translation of the site - see link below). No, it's noteworthy because of the way it's presented, and where the message is coming from (i.e. from the top).
But it's not just empty marketing. There are teeth behind the idea too. Next month (Nov/05), the speed limit on portions of four major highways is being cut from 100 km/h to 80 to improve the air quality for residents of adjacent suburbs.
The Netherlands campaign is actually just one example of a Europe-wide effort to encourage "Eco-driving" habits. Maybe one day North Americans will take up the challenge too.
Yee-haw!!
---
Related links: