Posted Wednesday, November 23/05 in Suzukiclone info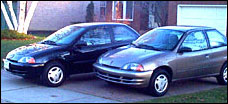 Imagine it's late 1997. Two almost identical Pontiac Fireflies roll off the CAMI assembly line near the picturesque town of Ingersoll, Ontario. One is built in October, the other in November, both for the 1998 model year. They could practically be twins.
Fast forward eight years to 2005 and there's a reunion of sorts: both cars ultimately end up in my driveway with me as their owner. But their paths to this point couldn't have been more different.
Separated at birth
The first (brown) Firefly left the factory and entered service as a dutiful runabout and freeway commuter around Hamilton, Ontario for a succession of four owners. By the time I became its 5th owner in April '05, it had gone 141,000 km (87,613 mi).
The second (black) Firefly was bought by an elderly woman in Ottawa, Ontario. She drove it very little before moving back to her home in France, intending to have the car shipped after her. Unfortunately, she fell ill before shipping it, and was never well enough to drive again. So the car remained in Ottawa, parked in a relative's garage ... for 7 years.
That's right, in storage for 7 out of 8 years.

When I bought it this month, it had just 2,468 km (1,533 mi) on the odometer. Talk about a "barn find"!
A "new" 8-year-old car
Essentially it's a "new" 8-year-old car. It still smells new inside, runs and shifts beautifully, is virtually rust-free, and is devoid of squeaks and rattles. When I went into the back seat to clean the windows, I was probably the first person to sit there.
The car needed a new battery, an oil change, and the rust cleaned off the brake rotors. Oh, and it still had a full tank of gas from 1999, which I drained out before driving home. If it weren't for some scratches in the black finish (because the car basically served as a shelf in someone's garage for 7 years), it could be in a showroom.
When I bought the first Firefly, I was taking a bit of a gamble. I wasn't sure if I would be satisfied with it - the small size, its lightweight (arguably flimsy) construction, the meagre but growly 3 cylinder motor.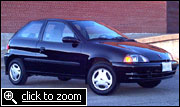 I suppose the fact that six months later I just bought my second one answers that question.
I really grew to enjoy Suzukiclone v.1.0. And surprisingly (though in just 6 months it may be hard to tell), it has proven to be one of the more reliable used cars I've owned. From a cost of ownership perspective, it beat the pants off my old Accord.
Under the skin, we're all the same
Other than the colour, the two Fireflies are nearly identical. Same frugal motor, same DIY transmission, same interior. A few very minor differences on the new car are side body moldings, and a little handle to adjust the passenger side mirror from inside the car. Oh, and there's no radio (though, oddly, it's factory wired with four speakers). That's easily fixed.
I spent the last week or so transferring all the efficiency mods over to the black car, and last night I spent an aggravating 3 hours contorting myself around the back of the engine to add a new one: a block heater.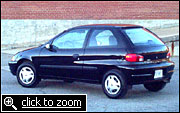 Ah, yes. Winter. I am reluctant to subject the little car to the season. It's not the cold and snow I'm concerned about. It's the road salt. We're in the rust belt here in Ontario, and it seems a bit of a shame to drive the Blackfly through the briny mess. To mitigate as much as I can, I got a couple of cans of undercoating and did my best to protect the bottom of the car. Next year I'll look into getting a professional rustproofing package.
They're out there
The moral of the story? Wish ill health on old ladies? No.
Keep an eye on the trader. No matter what kind of car turns your crank, if you're patient, a good one will eventually turn up.
You could start by keeping an eye out for a brown '98 Firefly. Know anyone who wants one?
(Update, Dec 15/05 - sold the brown one to a neighbour.)