Posted Wednesday, December 21/05 in General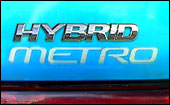 Okay, I'll admit it. I have Prius envy.
I've driven both generations of Toyota's gasoline powered hybrid, and in terms of geek appeal, it's hard to beat. Ghosting around town on electric-only propulsion (or "stealth mode" as it's also called) is one of the coolest driving experiences I've had. The car scores points both for its outstanding efficiency (when driven intelligently) and technological creativity.
The logical evolution for the Prius and other hybrids is a plug-in option. Fitted with an additional higher capacity battery that's charged from the grid, the car can operate in electric mode for up to 60 miles, vs. just a few miles in "stock" format. If the plug-in charge is used up, the car reverts to its gasoline motor and "normal" hybrid operation.
It's such a good idea, I've often wondered if there's a way to hybridize my Firefly. Maybe there is... if Santa's elves can work out the details.
Half a hybrid
I've always felt that the Firefly/Metro is already half way to being a hybrid. Hybrids like the Prius & Insight employ a relatively small gasoline engine which is augmented by an electric motor when more power is demanded. These gas engines would be considered (by many) to be underpowered if they weren't assisted by electric motors.
Well, my Suzukiclone definitely qualifies on that point.
Its 1L (993 cc), 55 hp, 3-cylinder motor cries out for assistance on a regular basis. Its status as a half-hybrid is further supported by the fact that it even shares its basic engine layout with the Insight, which also uses a 1 liter, 3-cylinder design (995 cc). (However all similarities end there, because the Honda employs more advanced engine design & technology to produce both greater power - 67 hp - and better efficiency than the Suzuki-designed powerplant.)
So ... small, underpowered gas engine... Check! All the Metro needs to complete the hybrid equation is electric propulsion.
EV inspiration
Not surprisingly, industrious electric vehicle (EV) builders solved a similar problem years ago. Seeking to extend their cars' ranges beyond their batteries' limits, some have constructed special trailers that permit them to do just that. These trailers are either:
(a) portable generators that provide power to the tow vehicle while driving (essentially making it a gas/electric hybrid), or,
(b) self-contained internal combustion engine (ICE) drivetrain units that actually propel the EV from behind - a "pusher" trailer.
Here's an example of (b):

The Porsche in this photo is a pure EV. Its trailer is a fully functional front half of an early 80's VW Rabbit: front-wheel drive, automatic transmission, shortened exhaust system, and integrated fuel tank. The Porsche has a simple set of controls in the cockpit to "drive" the pusher trailer: an ignition/starter switch and throttle control.
Here's the owner's web page describing the set-up.
Metro: mirror image
What I would do is the mirror opposite of the Porsche/Rabbit example. I'd go for an electrically powered trailer that could propel my ICE car at low speeds.

Having seen a Yugo conversion (part 1, part 2) described at EVConvert.com that used a a 5 hp, 48 volt system to motivate the 1600 lb. car to 35 mph, my uneducated-in-these-matters guess is that a 10 hp / 48 volt setup would suffice to propel my 1808 lb. / 820 kg Firefly and its 500 lb. (est.) trailer to similar speeds.
Spectacular range isn't a big concern. I live in a small town, and nothing is further than a 12 km (7 mi.) round trip from home.
Why not just go pure EV?
Because I don't use the car to commute (work at home). And in the summer, I tend to ride around town on my beat-up 10-speed bike (which, as a totally unrelated aside, I haven't locked up once in the 5 years I've had it).
The result is I actually put far more miles on the car in highway use than I do in town. From April '05 to now I've gone a total of 8310 km (5163 mi.), and 67% of that driving was highway trips of more than 80 km (50 miles).
So, no dedicated EV for me. An electric pusher trailer it is. Here's how it compares to its Porsche/Rabbit inspiration:
| | | |
| --- | --- | --- |
| Host car: | Porsche EV | Firefly ICE |
| trailer power: | gasoline | electric |
| trailer use: | highway | around town |
| trailer performance | high speed | low speed |
| trailer range | unlimited | 24 km / 15 miles |
| MPG (US) city/hwy | ? / 30 | ?? / 50 |
Driving the PHEV pusher
One of the first concerns that comes to mind is handling. But apparently the Porsche/Rabbit combination is benign. The owner claims no adverse handling effects (oversteer) even in tight turns under near full-throttle. The Rabbit motor produces around 60-70 hp. With far less power in my hypothetical EV trailer, it would be even safer.
Around town, I would drive it just like a Prius: gas engine off, pure electric drive up to around 30 mph. Above that, switch the IC to "on", pop the clutch in the appropriate gear and carry on. Disconnect and leave the trailer at home for highway trips.
The Firefly has manual steering, so driving with the ICE shut off is no problem. The brakes are power assist, however they aren't difficult to use unassisted. An electric vacuum booster for the brakes is an option too.
Other potential cons:
handling a trailer (e.g. reversing)
finding parking will be harder
dubious legality
winter driving conditions rule out its use for a chunk of each year
Pros:
interchangeability with other "host" vehicles
multiple charging options: solar/regen/grid
owning the coolest trailer in town and the first (?) PHEV pusher
Of course there are basic design issues I'm not not educated about, such as whether the electric motor needs a freewheeling transmission so as not to cause drag when being pulled by the ICE. But there are a few days to go before Christmas - the elves still have time to work out the details.
Whaddya say, Santa?
---
Resources ...