Posted Saturday, November 5/05 in Mods & Tests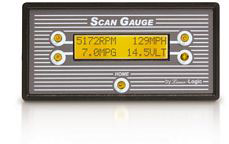 Quiz time! Fill in the blank: crack cocaine is to a drug addict as _____ is to a fuel economy nerd.
If you guessed "fuel consumption data", you get a gold star. Also, we can start our 12-step program together...
Hello, my name is Darin, and I'm a fuel economy nerd. I just bought a nifty gadget that shows my fuel consumption in real time, while driving. I've only tried it once so far (and only for a few minutes, I swear), but I can already tell that the folks at rehab are going to have serious trouble with me.
It started innocently enough. I used to be a recreational user, getting my data fix at the gas pump when I did the calculations. But the truth is, I really don't drive my car very much, so I don't fill up that often. As a result, my desire for better efficiency feedback overpowered my patience for waiting until fill-up time.
Scribbling mileage figures on gas receipts is a gateway drug, or so it would appear. It's led me to the harder stuff: one day last week, in a dark back alley, I gave a guy some money and got well and truly addicted.
Okay, it wasn't a dark alley. It was eBay. And the addiction I got is a ScanGauge.
The ScanGauge is electronic crack to a fuel efficiency nut. It's a diagnostic tool that plugs into the ODBII port (found in all cars sold since 1996) under the dashboard, and reads information from the PCM (powertrain control module, or, engine computer). and it's a handy tool for DIY folks like myself who want to be able to repair and maintain a computerized vehicle.
Aside from helping with diagnostics & repairs, the bonus (and I'll admit, the main reason I got it) is that it also shows instant and average fuel consumption data while driving. Forget pump-side calculations - my feedback loop just got seriously shorter!
With the ScanGauge, the effect of driving style on fuel economy is instantly apparent. My mileage game just turned pro, and now I can have as much fun as those Prius and Civic hybrid aficionados with their fancy dashboard displays.
I said to a friend, "I just have to be careful I don't wrap the car around a tree while staring at this thing!"
Her response: "You can't wrap a Firefly around a tree - it's not big enough! Maybe around a small post or something."
Very funny.
Besides monitoring the effects of driving style, I'll also be able to use the ScanGauge to measure the mpg effects of changes to the car itself. Small changes are nearly impossible to measure at the pumps, what with the myriad potential errors involved. The ScanGauge will bring the scientific method into much sharper focus.
For example, after reading about the 28% mileage gain that Phil Knox achieved by modifying the aerodynamics of his Toyota pick-up, I've been thinking about trying a few simple aerodynamic experiments on the Firefly: a partial undertray and/or air dams, wheel skirts, lowering...
Being able to compare relative fuel consumption figures before and after mods (on a fixed route, at a fixed speed, in the same weather conditions) promises to be both edifying and entertaining.
Unfortunately these plans are going to have to wait for while, because the arrival of the ScanGauge pretty much coincides with the arrival of crummy weather. Summer is a fading memory; winter is right around the corner.
Sadly, as the temperature slides towards the wrong side of freezing, tinkering with the car has pretty much wrapped up for the year. The only thing the ScanGauge will be measuring for the rest of 2005 is the inevitable, disappointing slide in mileage that comes with winter's icy grip.
Once I have some more experience with the ScanGauge, I'll post a detailed review.
Possible ScanGauge fun:
- find the sweet spot (max mileage speed)
- graph mpg across speed range
- lend to friends and family curious about their fuel consumption
- test homebrew aerodynamic mods
- test current fuel saving theories: e.g. measurable effect of windows
up vs down? roof rack penalty?
- remove muffler: does freer exhaust improve mpg?
- effect of drafting on mpg/drafting
- weight penalty: strip items from inside the car for a city mpg test
- measure the mpg penalty of the alternator (potential solar/deep
cycle electrical system)
- more to come...