Posted Tuesday, October 11/05 in General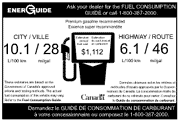 "Hybrid or not, if you want good fuel economy you have to drive like you want it."
Truer words were never spoken. These came from autoblog.com, in an item about U.S. consumer backlash against manufacturers of hybrid vehicles because of their "unattainable" EPA fuel consumption ratings.
This consumer kerfuffle has led to various responses from manufacturers, and from the EPA itself.
Toyota, for one, has printed a pamphlet explaining why its hybrids may not live up to their ratings. Not surprisingly, it cites driving habits as a primary factor.
Ford is taking the logical and laudable step of actually educating owners of its hybrids, offering hands-on clinics on hybrid technology and how best to drive the vehicles to wring out the high mpg numbers.
(Manufacturer-sponsored driving clinics are nothing new, but they have traditionally come from makers of "high-performance" cars: in the 90's, Nissan used to offer buyers of its 300 Z cars a race track/skid school at Shannonville, Ontario; Current BMW, Mercedes and Porsche schools are not hard to find. Are manufacturers realizing that in hybrids they've created a different sort of "high performance" vehicle, whose owners will also benefit from specific training?)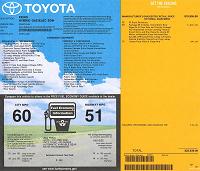 On the other side of the equation, the U.S. EPA is responding to the complaints with news that it's planning to revise its testing methods to produce figures that are closer to average drivers' results.
But not only will trying to come up with a "once size fits all" rating not work, it passes up a timely opportunity for education.
Here's a suggestion: Instead of just revising down the usual city/hwy ratings, the agency should provide a range of figures for each vehicle that underlines the impact of the biggest variable affecting a vehicle efficiency: driver behaviour. [Oct. 13/05 - See update, below]
There's a road sign on the 401 that lists the fines for getting caught speeding at 10, 20, and 30 km/h over the limit. Apply that logic to fuel economy ratings and let's put stickers on new cars that let drivers choose between 60 mpg (US) at 50 mph, 53 mpg at 60 mph, or 40 mpg at 75 (that's the actual range I've experienced with my Suzukiclone).
As for the city figures, instead of simply (and simplistically) rating my car at 44 mpg (US), It would be more useful to tell me I can expect to see between 37 - 44 mpg (again, the actual range I've experienced with my car), depending on driving style, terrain, temperature, and vehicle load.
And if the goal of the EPA figures is simply to offer a method of *comparing* different vehicles, as opposed to predicting actual mileage (as has been stated in defense of "unrealistic" ratings), then they should abandon mpg statements altogether and switch to a pure ranking system - e.g. this car gets an "EPA-400" rating; it uses twice as much fuel as that "EPA-200" model over there.
But that would be a step in the wrong direction, because it misses the chance to inform drivers about the impact their driving habits has on fuel economy. With a "high & low" mpg range, drivers get a numerical "carrot & stick" - and the understanding that their behaviour will determine which one they'll be more likely to get.
[Oct 13/05 Update: I just learned that since 2003, the EPA window stickers have in fact shown a range of fuel consumption figures for both city/hwy figures... in the small print. The Canadian labels don't have ranges anywhere.]
Links: