Posted Thursday, August 16/07 in General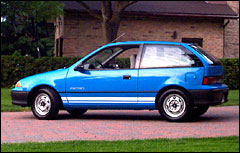 By this time last summer I had already run a bunch of fuel economy tests and tinkered plenty with the Blackfly. This year, if it's not obvious already, I've done precious little.
To the fossil fuel-powered car, that is.
I've actually been working on a variety of other vehicles, and in the spirit of the Blackfly, the common theme running through the entire fleet is efficiency. (Most of them even save fuel by replacing some dino juice driving.)
So here's where my tinker time has been going this summer...

The Pirate Bike ...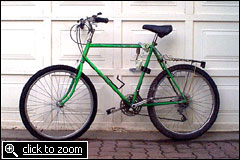 Plucked from the curb on "Treasure Hunt Day"
In my report about my home-built bicycle trailer, I revealed my main method of getting around locally in nice weather was an old Raleigh 10 speed bicycle that I plucked from my neighbour's curb one garbage day about 5 years ago.
Well, the old Raleigh has been put out to pasture. (Actually, not true - I gave it away to someone who was tentatively looking to get back into bicycling after knee surgery.)
The Pirate Bike is its replacement. This beauty was found on "Treasure Hunt Day", the name of our city-wide "yard sale where everything is free" (a waste reduction effort sponsored by the solid waste department). The bike hadn't been used in a long time - several bearings and the chain were rusted solid. But that's nothing some penetrating oil and about an hour or two of tinkering couldn't solve.
It's amazing how a slightly more comfortable bike translates into more riding (the 10-speed was mild torture by comparison). I've been riding it a lot more than the last bike.
How far? Since the end of May, I've gone well over 450 km. (For comparison, in the same time, I've done just over 1200 km in the car.)

Project ForkenSwift ...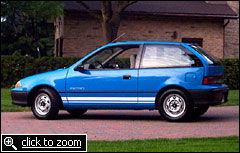 The ForkenSwift, all shined up for the EVCO electric car expo in Ottawa.
While the Pirate Bike competes with the Blackfly for local travel, the ForkenSwift is where most of my tinker time has gone in the past year.
A friend and I have nearly finished building this low speed 100% battery electric runabout which will be used for short trips around our small city.
How fast? Top speed is around 60 km/h (40 mph) on level ground.


How far? Range is about 20 km (12 miles) per charge.
The car's name refers to one of the 2 "donor" cars (a Suzuki Swift + a Geo Metro). We made one good car from the two of them and then added parts from an old forklift that we bought and stripped of its motors and electric / electronic bits. There are some used golf cart parts thrown in as well - batteries and a motor controller.
The tag line for the project is "EV conversion on a beer budget". When we realized how potentally inexpensively this could be done (with patience, resourcefulness and pure, blind luck at sourcing parts and selling leftover ICE parts), keeping costs down became a main goal and point of pride. To date, we've spent less than $700 CAD, net.
When it's officially on the road this fall, the ForkenSwift will displace yet more Blackfly usage - specifically local trips where I don't want to ride the Pirate Bike. That would be when in crappy weather, or when I want to take passengers or big/heavy cargo (too big for the bicycle trailer, that is).
For more details - links, specs, pictures: see the ForkenSwift's EV Album entry. (Eventually www.forkenswift.com will be the place to go for info about the car.)

Mom's electric bike...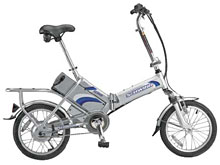 Schwinn-branded e-bike from Canadian Tire (sold as the Currie iZip in the US)
Combining the two previous vehicle styles leads nicely to... mom's electric bicycle.
Earlier this summer my mom expressed some interest in getting back on a bike, to replace some of the short errands she normally does with her car. Being a senior citizen (not in the greatest shape), and not having ridden for 25 years, I suggested getting something with electric assist. She thought this was a fine idea. Her only request was that it have a large basket to carry her shopping.
I spent some time trying to decide between a purpose-built e-bike, or a kit to convert an existing bike. The selection was complicated by the fact that my mom is short, so we had trouble finding a size that fit her well (both when riding and when stepping on/off).
In the end we chose a relatively inexpensive Canadian Tire Schwinn branded folding bike (Currie iZip in the USA) with a nice, low step-through height and a small 24v, 250w hub motor.
How fast? 20 km/h on level ground without pedalling.


How far? In "blended mode" with pedalling, I went over 20 km, using about half the battery charge, and never breaking a sweat.
I've since borrowed the bike a few times, twice to stay cool on trips when it was really hot outside (I pedalled at a constant low output and used the assist where needed to maintain speed in headwinds and up hills). I also used it once when I was feeling under the weather and didn't want to pedal at all.

Electric boat motor...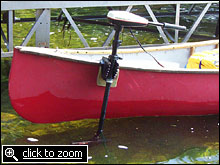 $30 second-hand Minn Kota electric trolling motor
Continuing the electric assist theme, in June I picked up a used Minn Kota electric trolling motor for 30 bucks.
One of the first things I did with it was to make a "tri-brid": I lashed the motor to the swim ladder of a sailboat, making it a wind/gas/electric vehicle. It was amusing, in a nearly futile kind of way, watching 17 lbs of thrust drive a 5000 lb boat. It wasn't fast; a slow walking pace at max power. And that was in flat water with almost no breeze. Change either of those, and fuhgeddaboutit.
My next attempt was mounting it at the back of a canoe. Much more successful and practical, and I used it in various ways:
the sole mode of propulsion for just cruising around quietly


as a "range extender" (to give arms a break) on longer trips


in "blended mode" while paddling solo (I believe that with the motor turned slightly to one side improves the efficiency of paddling on the other - it's like having another person to paddle against, so you spend less energy steering)


as "insurance" for longer journeys
Never mind that the two 6v batteries I used on my longest trip (about 10 km) weighed more than the canoe itself.
How fast? About 4 km/h on the lowest power setting (1 out of 4). 8 km/h on max power (flat water, no wind).


How far? The rating for the motor from a 105 amp hour battery: 10 hours on low power; 3.25 hrs on max power.
At one point I cruised silently past 8 turtles sunning on a rock. When I ran out of juice and paddled by them on the way back to the cottage, they all dove into the water. Apparently even turtles think electric drive is cool!

the Proa ...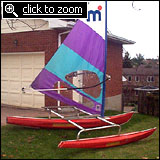 OK, this one doesn't displace any fossil fuel use. But it occupied more than a couple of hours of my tinkering time in July, and it's a vehicle, so it's on the list too.
I picked up the hulls and platform for $20 last fall. It's a "Hilu" made by Alcort, the same people who produced the Sunfish sailboat.
It's a unique design and apparently wasn't a big seller - I couldn't find any pictures or info online.
The unstayed mast fits in the main hull, which also has a daggerboard and a single rudder (both of which were missing - I modified Laser parts to fit). The smaller hull serves as an outrigger, making the boat closer in design to a Micronesian proa or Polynesian sailing canoe than a catamaran.
I rigged it with an old fiberglass mast, sail & boom from a big windsurfer, and had some fun with it. A stiffer mast would be better though. I'm keeping my eye out for something...

Whither the Blackfly?
In case you're wondering, the hiatus in the evolution of the Blackfly isn't a sign of waning interest. It's just that there aren't enough of me to go around when it comes to the fleet of vehicles that have accumulated this summer.
That said, the ForkenSwift is close to being ready for legal on-road use (September is the goal), and once that milestone has passed, I'll have more tinker time again to tackle the backlog of experiments I'd still like to try.
Resources ...