Posted Saturday, December 3/05 in Mods & Tests

Busted!
Let's get right to it. The second round of tests on the 3 filter types support the results from the first round. That is, there's no consistently measurable difference in MPG between the filter variations at a fixed speed.
So, performance filters don't work then? Oh, I wouldn't say that. While their web site mentions mileage repeatedly, K&N never explicitly promises reduced fuel consumption. There are could's and may's, but the only truly guilty party here is me, for being overly optimistic about the potential gains from shelling out the big bucks.
More below: details of the results; what else was learned from the tests; and why, despite all this, I may still stick with a high-flow filter.
---
Filter test overview:

2nd of 2 parts (go to part 1)

test results at 95 km/h (59 mph)

conclusions

what else was learned
---
In the first round of filter tests, the test speed was 80 km/h (49.7 mph). At the time, I tried to do additional runs at a higher fixed speed, but I kept catching up to slower traffic, or getting close enough to be concerned about aerodynamic wakes, and a few times I had to brake and cancel the run. This time, I had the road to myself.
Runs & results
The weather was even more calm than last time. Winds were NE < 3 kts. Light overcast, temperature 2 C / 35.6 F.
Again, I was comparing 3 filter types. The air filter housing (which sits directly above the throttle body) was disconnected from the upstream intake plumbing & airbox/silencer. Just testing filters here:
OEM paper (with < 2500 km on it);

K&N "high flow" (< 7000 km on it);

and "none" (for kicks)
And again, since the K&N was already in the car, I started with that - 4 bi-directional runs to get a baseline and a margin of error. Then I tried the other filter combinations, for a total of 14 one-way or 7 bi-directional runs.
@ 95 km/h / 59 mph --- West/East --- units: km/gal (US)

K&N filter - run #1 ---- 72.4 W ------ 68.7 E ------ 70.55 avg
K&N filter - run #2 ---- 72.1 W ------ 69.3 E ------ 70.70 avg
K&N filter - run #2 ---- 72.0 W ------ 68.8 E ------ 70.40 avg
K&N filter - run #2 ---- 73.5 W ------ 68.6 E ------ 71.05 avg
K&N filter - avg all --- 72.5 W ------ 68.85 E ----- 70.68 avg
OEM paper - run #1 ----- 72.7 W ------ 69.6 E ------ 71.15 avg
OEM paper - run #2 ----- 73.3 W ------ 69.1 E ------ 71.20 avg
OEM paper - avg all ---- 73.0 W ------ 69.35 E ----- 71.18 avg
No filter -------------- 72.7 W ------ 69.4 E ------ 71.05 avg
Once again, there's no practical difference between the paper and K&N filter - the difference between their averages (.50 km/gal) is smaller than the variation within the set of averaged K&N runs (.65 km/gal). This time, even the one-off "No filter" run landed in the middle of the results.
Conclusions
Despite my desire not to look like a fool for having spent 80 bucks to achieve better fuel economy, essentially that's what has happened!
Remember, K&N is not to blame here. While their website does state that their product is wonderful etc. etc. etc., they do say, "we do not go so far as to claim our products will always provide an increase in mileage." (link)
Admirably, they also state, "It is virtually impossible to make sweeping and general claims about mileage and anyone who does should be approached with extreme caution."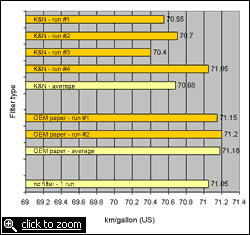 What else was learned
There's no significant filter restriction on this car at fractional throttle openings. (That's just logical - I wish I knew as much about air intake when I bought the thing.) At the speeds tested, the biggest restriction in the system is at the throttle plate itself. The flow rate just isn't high enough to reveal an advantage to either filter. As I said in Part 1, maybe one will work better at wide open throttle - but that's not what I was testing.

The margin for error on these tests is likely around 0.5% (about .35 km/gal). (Dec. 04: Actually - I just looked up the formula in my old stats textbook - the margin for error for the 4 K&N runs is .28 km/gal, or .14 in either direction from the average. Not bad for a guess.)

Resist the hype! Don't get sucked in by subjective, uncontrolled and unsubstantiated claims (e.g. K&N's customer letters). Even fill-up to fill-up comparisons are exposed to too much variability to be valid.

One thing that wasn't tested was whether there's any restriction in the Firefly's stock intake plumbing including the air box/silencer upstream of the filter housing (it was disconnected for these tests). There very well could be. But that's for a future trial.

I wish I could remember my stats 100 course! It would be nice to look at these results with an informed view of sample size, validity and margin of error. (I actually dug up my old text book, but haven't yet cracked it open.)
Wanna buy a slightly used K&N filter?
So now what do I do with it? Sell it on e-Bay?
No. Ironically, keeping the thing might still be worth it. If I can be ... very ... very ... patient.
Unlike paper filters, K&N's are washable and re-usable. For the Firefly, I can buy 5 paper filters for about the price of one K&N and a cleaning kit. With an OEM change interval of 25,000 km, the K&N will pay for itself in only 125,000 km!